First Time Appointments
Depending on the season there could be up to a two week wait for an appointment, but we will do everything in our power to get you in as soon as possible. We are looking into it, but for now, we do not accept credit cards at this time.

Tips
Tips are optional, but greatly appreciated.

De-matting of Coats
Matted dogs should be clipped down and placed on a maintenance/preventive grooming schedule. De-matting is inhumane to the animal, expensive to the client, and dangerous to the stylist. Brush-out time is charged by the hour, and should be discussed with the stylist.

Ear Cleaning
Stylists will routinely clean ears and pluck hair from the ear canal of all dogs who don't have questionable ear infections. Your veterinarian will want to see the problem "intact." Stylists will not clean ears if the dog appears to be "over" stressed by the procedure or overly aggressive.

Nail Trims
Stylists will routinely trim nails on all dogs who are not overly aggressive.

Anal Sac Expression
Whether or not to express the anal sacs as a standard part of the grooming procedure is a matter of debate among many professional stylists. We feel that if and when necessary, this is best left to the veterinarian.....it is an invasive procedure. The treatment is only necessary when the anal sacs are clogged or impacted, and there should be no reason to do it otherwise. If the anal sacs are incorrectly expressed, it can result in an infection of the anal glands.

Pet Injuries
Every precaution is taken to see to it that your pet is handled in a kind, loving, and humane manner. Clients should realize, however, that we are not working with inanimate objects. They sometimes move unexpectedly. Any injury is handled as follows: (1) immediate 1st aid treatment by the stylist, and (2) notification to the pet owner. There is no reason for any stylist to ever try to hide an injury, accidents do happen.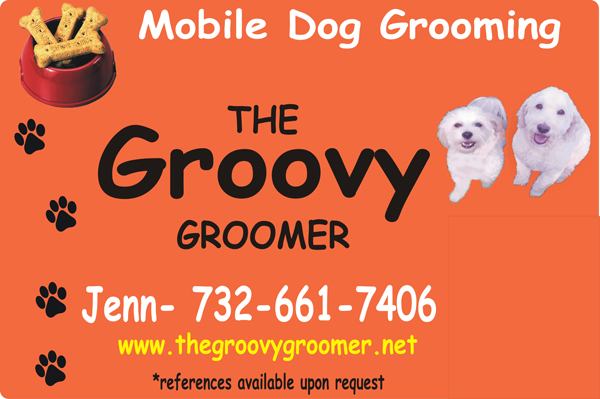 Call or Text me today at 732-661-7406, or browse the website for more information about our products and services.
You may email me at jennsnuggles@aol.com
My Bold Brand Promise:
I will not leave unless you are 100% satisfied, no matter how long or short it takes to style your pet!
You are always a satisfied customer! Always!

"We will make your pet feel 10 years younger!"


Please note that we are in the process of looking into accepting credit cards, however for now - we only accept cash or checks.
I return phone calls, texts and emails within 24 hours. No need to call anyone else. Currently booking 2 weeks out but will be worth the wait for my guaranteed service and excellence (exceptions could be discussed and made). Please leave your name, number, full address including zip code, breed, type of haircut, and I will respond with my availability and quote.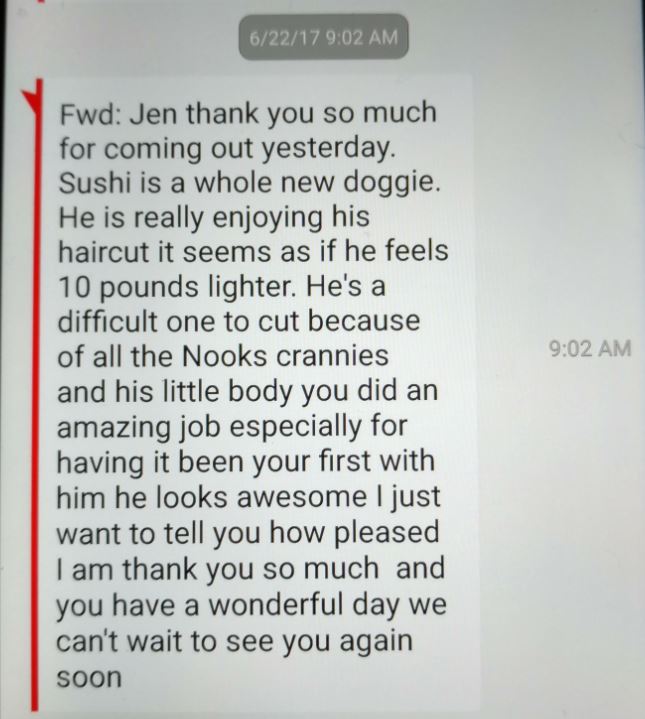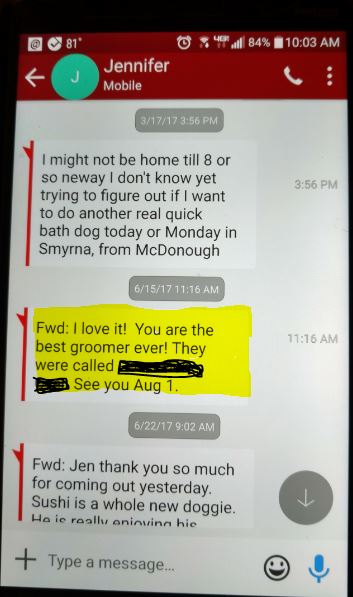 Policies